Christmas and New Year´s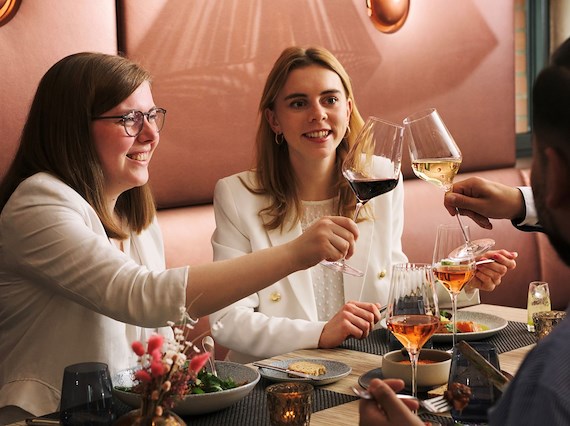 Festive December Special
Here, every bite awakens the sweet anticipation of the coming holidays and at the same time takes you on a journey full of memories of special Christmas moments from years past. Indulge in the Christmas-inspired menu from our Chef Cameron White and his team.
WALNUT MUSHROOM PATÉ
celery, quince, pickled cucumber, tarragon oil
FLOUNDER FILLET - ROASTED
rutabaga mash, mussels, dill fumet, salt lemon
HAMBURGER TAPAS
round piece warm, lobscouse, salmon stulle
SADDLE OF VENISON WITH FIG-NUT CRUST
Mashed potatoes and chestnuts, red cabbage, Brussels sprouts, savoy cabbage,
cranberry jus
BAKED APPLE FROM THE OLD COUNTRY AND HONEY
Baked apple puree, honey cake, curd-rum ice cream

---
5 COURSE MENU
€ 89,- per person
3 COURSE MENU
€ 65,- per person without flounder fillet and hamburger tapas

From 25 November to 30 December from 17.30 at Fang & Feld. We kindly ask you to make a reservation in advance.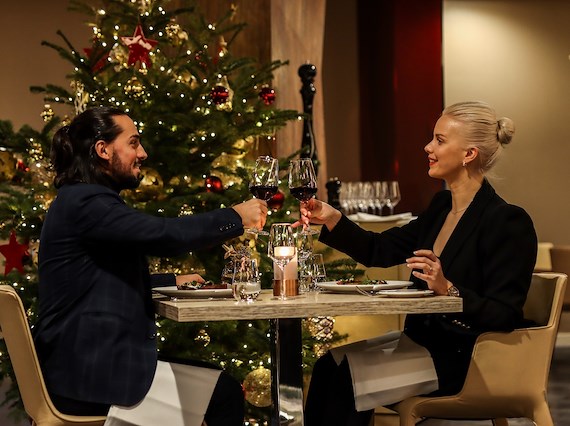 New Year's Eve at Fang & Feld
New Year's Eve at Fang & Feld - Culinary fireworks! In the hanseatic restaurant Fang & Feld you can look forward to an extraordinary buffet and music from the live band LVNA.
Starters Buffet

Oysters

Scallop ceviche, mango, blood orange, red onion, coriander, sesame

Game pate, pistachios, cranberries, bitter salad

Fresh goat cheese, pumpkin, apple, corn salad

Cream of truffle soup, quail eggs, brioche chips

Pickled salmon, horseradish, yuzu, micro cress

Beef tartar waffle, pepper mayonnaise, fermented radishes
Osietra caviar, pea panna cotta, sour cream, coral chip

Served at the table

Cauliflower strudel, morel sauce, hazelnut

Monkfish fillet, potato, chestnut, kale, saffron, herb oil

Fillet of beef "Wellington", celery puree, finger carrot, green asparagus, wild broccoli, Madeira jus
Dessert Buffet

Champagne raspberry roulade

cream puff, chocolate, Grand Marnier

Cheesecake, berries

Pavlova, passion fruit

Bakewell tart, vanilla ganache

macarons
18.30 h till 23.00 h
Appetizers buffet 18.30 h until 20.00 h
Intermediate courses and main course from 20.00 hrs
Followed by dessert buffet
Drinks package
Mehringer Old Vine, Nik Weiss, Moselle
Sancerre Blanc, Michel Thomas, Loire, France
Pinot Noir Markus Molitor Graacher Himmelreich, Mosel
Malbec Barrel Selection, Salentein, Mendoza, Argentina
Water, soft drinks, Fürstenberg Pils, Paulaner Hefeweizen, coffee, tea

269,- per person incl. drinks
Including 1 glass of champagne 0,1 l Mailly Grand Cru Reserve as a welcome drink in the restaurant
We kindly ask you to note that there is no view from the restaurant Fang & Feld of the fireworks, as the view from the windows is limited. You are welcome to enjoy the fireworks from the Plaza.