Our Menus
Our menu is a culinary tour through Northern Germany.
Fish or meat, just a starter or a dessert? Our team will advise you and meet your individual needs. Start the journey with us, an exciting journey through Hamburg.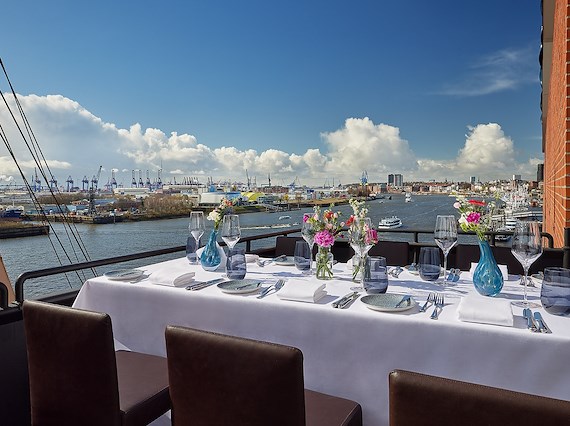 Table with a view
View of the harbor from a very special place.
Enjoy the view of the water and the harbor on warm summer evenings, accompanied by culinary masterpieces prepared with great attention to detail.
Scallop
fennel, orange, saffron
***
Poultry consommé
Truffle gyoza, royal, beech mushrooms
***
Hamburg tapas "Elbblick"
"Rundstück" - warm, fried herring, salmon bread
***
Land & Sea
Fillet of beef, lobster, Bernaise sauce, potato cream, asparagus, shiso
***
Red fruit jelly "Fang & Feld"
189 € per Person
We are looking forward to your booking request at
restaurant.thewestinhamburg@westin.com
If the weather conditions do not cooperate, you can enjoy your dinner in a cozy atmosphere in our private dining area.
The offer can be booked for a maximum of 10 people and up to 4 days in advance and is available on Thursdays, Fridays and Saturdays. Please notify us of any cancellations or rebookings up to 48 hours before your date.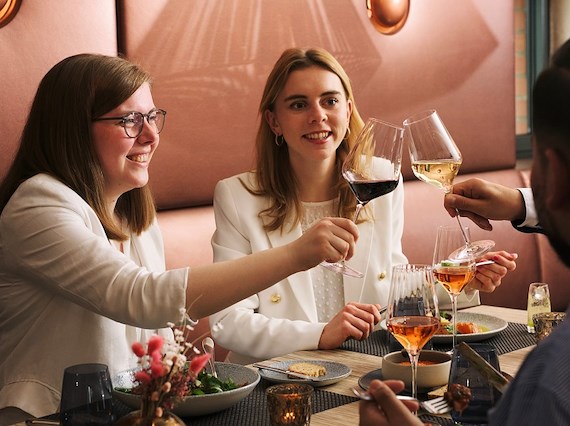 Tasting Washington State
Experience an unforgettable evening with the fine wines of the oldest and most renowned winery in Washington State - Chateau Ste. Michelle Winery, which, by the way, is located on the same latitude as Bordeaux. Each course of our menu will be accompanied by a hand-selected wine from the winery, and Philippe Hoji will guide you through the evening with his expertise and charm. We will welcome you on the balcony of our restaurant starting at 6:30 pm and serve you a first class menu with matching wines in our Private Dining Room starting at 7 pm. Get ready for a delightful indulgence - we look forward to seeing you!
06/17/2023 | 6:30 pm
The Westin Hamburg
Fang und Feld | 7th floor

Menu
Green Gazpaccho
Tomato marinated & sorbet, gin, buckwheat chip, ghoa cress.
***
Haddock
crustacean foam, leek, silver onion, potato
***
Fillet of beef - pink
green asparagus, artichoke, sweet potato, chimichurri, jus
***
Apple Tarte Tatin
Rhubarb-sorrel sorbet, almond
149 € per person
We look forward to your booking request at restaurant.thewestinhamburg@westin.com
Please note that we can accept reservations for a maximum of 16 people for this event. In case of bad weather, the reception will take place on the 8th floor of The Westin Hamburg at the Coffee Bar.